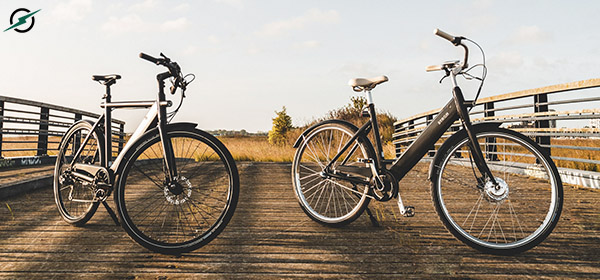 Benefits of STRØM electric bikes
E-bike – electric bike – dear child has many names. Here we share an overview of some of the most important e bike benefits.
The electric bike has really made its entrance into the Danish and overall European market, where both young and old appreciate moving around on a bike with an assisting motor. With the integrated assistance, you can easily overcome longer bike rides to and from work or wherever A to B takes you.
Whether you are looking for a good alternative to the costly car, the erratic public transport or the classic bike, then an electric bike will be a good choice. There are plenty of benefits to the electric bike, and they are only expected to increase further in popularity in the coming years.
An electric bike is a good investment
It is very individual whether one considers an electric bike as a must-have or a nice-to-have. Anyway, this mode of getting from A to B comes with a long range of e bike benefits that speak for themselves.
You can get great pleasure from an e-bike, whatever you typically just need around the block or if you have a long way to work and are not interested in investing in a car. The e-bike can not prevent bad weather, but with the right equipment you can still enjoy getting faster and easier along the bike paths. You will quickly find out what freedom means when you can easily take a ride in the woods or along the water. You also get exercise without a sweat on your way to work. Let's summarize some of the major benefits of riding an e-bike.
An electric bike will save you a lot of money. How much you can actually save depends on whether you are comparing to a car, public transport or something else. By using our calculator you can find answers to how much money you can save per year. All you have to enter is the distance to work and the number of trips per week. Immediately after, you will be introduced to your annual savings. The annual savings expresses the savings you can achieve by getting rid of the car in favor of an e-bike.
In addition to saving a lot of money, you can do the environment a great service by investing in an electric bike. It is a fact that electric bikes are extremely environmentally friendly and therefore are a good alternative to both the car, the train and the bus. Whether it was your intention or not, you take a great environmental responsibility by choosing the electric bike over the aforementioned means of transport. It is never too late to leave the car behind.
The characteristic of an electric bike is that it is equipped with an auxiliary motor. This will help you reach your destination without using more force than absolutely necessary. However, it should be no secret that you can easily turn off the assistant engine if you want more exercise and do not want help from the engine. It is easy to adjust how much the engine should help.
Glide easily through heavy traffic
As the lucky owner of an electric bike, you no longer have to worry about rush hour traffic. You can easily and conveniently glide through heavy traffic. Although the e-bike can not ride as fast as a car, you will probably be able to save time, as you do not have to spend time queuing. This will be especially advantageous in the larger cities, where dense traffic in the morning and afternoon is not a rare sight.
Injuries and defects are no obstacle
There may be various health reasons why you can not operate a regular bicycle, but most people will be able to use an electric bike. With an e-bike, you do not have to put so much effort into it. This gives the elderly, the weak and people with various disabilities the opportunity to cycle without gambling with their health.
If you stay indoors most of the day due to your work, it is important that you get fresh air when you have free time. This is where the electric bike comes into the picture. If you get on the electric bike instead of sitting in an enclosed car, you can do something good for your health.
It is true that it is not as hard to ride an electric bike as a regular bike, but that does not mean that you can not get the heart rate up. In fact, the longer distances on an electric bike typically outweigh the training you get from a normal bike. You have to – in any case – step on the pedals to keep the auxiliary engine running. You can simply select a higher or lower help level if you wish. The electric bike will be able to help you get in better shape, as you get to train your legs and get your heart rate up, and at the same time can ride with much greater flexibility and longer distances.
The electric bike is popular like never before.
That has hardly passed your nose, but perhaps you are not fully aware of who the modern electric bikes are aimed at? Many Danes mistakenly believe that e-bikes are only dedicated to the elderly. The truth, however, is a little different; everyone can benefit from an electric bike.
Today, electric bikes are used by both the public sector, private companies and private individuals, who have experienced why it can be beneficial to replace the car with an electric bike for urban commutes. This explains why you see more and more ebikes on the Danish cycle paths. The users of the electric bikes consist not only of the elderly but also of young people and many others.
You need to buy an electric bike if you could use a helping hand on the trip to your workplace, your daily chores or something completely different. It is not the best start of the day to show up at work completely sweaty and drained of energy, which is why it is fortunate that the smart electric bike exists. The electric bike will probably be able to make your everyday life a notch easier and better, as you can save both money and time on transport while feeling energized and motivated from the ride. With the many obvious e bike benefits that we have highlighted in this post, this is bound to change sooner than later.
The best electric bike
In our opinion, it is difficult to find something that can compete with our STRØM Bikes electric bikes, if you judge the design, quality and price together.
Right now you can choose from a wide range of reliable and durable STRØM Bikes. First of all, you have to choose the desired electric bike model – here you can choose between our popular City Bike, our step-through City W or our new electric mountainbike style 'Fat Bike'. Whether you should choose one or the other model depends on your driving needs and other requirements. You are nevertheless guaranteed a good deal if you invest in one of these modern electric bikes.
At STRØM Bikes, we are happy to help you choose your ideal e-bike, but we can not point to one electric bike that is the right one for everyone. It is important that individual requirements, needs and wishes are taken into account. Therefore, we advise you to contact us if you are in doubt about your choice. And you can alternatively also read more about the different e-bike models. It never hurts to get some competent input along the way.
Be good to go in a matter of minutes with STRØM Online Support
You do not need to have experience in assembling electric bikes to buy an e-bike from us. All our e-bikes are delivered almost fully assembled. This allows you to get out on your first bike ride shortly after delivery. Take a look at our video collection guide if this part unexpectedly causes you trouble.
If you experience problems with your newly purchased electric bicycle, do not hesitate to contact us. Of course, you have a 24 month right to make a complaint regardless of the choice of e-bike. And you can also always visit our online support center, where we present you with assembly guides, maintenance tips, service instructions and much more.
All our electric bikes are made of robust and durable materials, so you are guaranteed a sublime e-bike. Common to all electric bikes is also that they are packed with features and the latest technology. Among many other cool features, our e-bikes can offer integrated lights and batteries. Get a complete overview of the functions under the individual products. Here you can also learn more about the current stock status and not least the price.
You are always welcome to contact us. You can get in touch with us by filling out our contact form with your name, email and message. Expect a response within 24 hours.
Test ride our ebikes – free and without obligation
We have daily showcases at our office by appointment between 16-17 at Farverland 4, 2600 Glostrup (Greater Copenhagen Area). We can also arrange test trips in Aarhus, Odense and Aalborg. Book an appointment and get out and try the coolest e-bike in town by clicking right here.
We look forward to welcoming you onboard STRØM Bikes.